Put Some South in Your Mouth
Breakfast, lunch, and everything in between.
A fresh take on southern home cooking.
Husband and wife team Jason and Carolyn Roy opened the original Biscuit Head restaurant in Asheville, North Carolina, to share their love of southern cooking, their inspiration from travel, and their commitment to local foods. The restaurant has been packed since day one and widely featured in the media including the New York Times, Food & Wine, USA Today, Garden & Gun, Paste and Eater.com. The Roys opened the second location of Biscuit Head, also in Asheville, in 2014, their first South Carolina location, in Greenville, in 2016, and a third Asheville location in 2018. All Biscuit Head locations strive to have as light of a carbon footprint as possible and participate in local charitable events.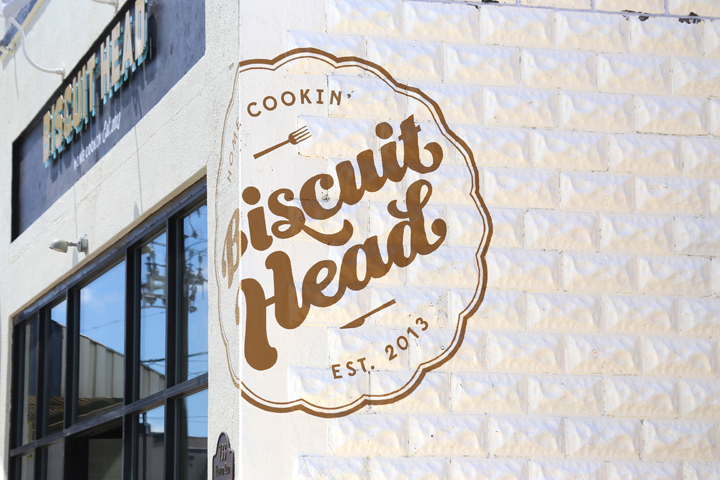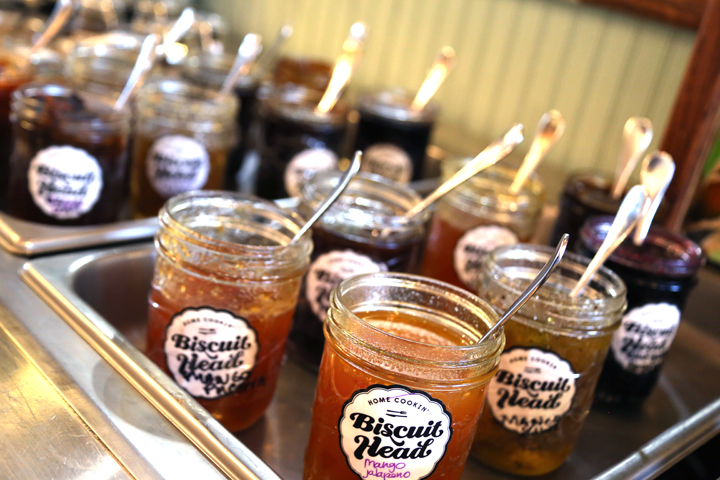 Our Local Friends
We pride ourselves on working with only the premiere local vendors.
Appalachai
Location: Black Mountain, NC
Product: Chai Concentrate
History: AppalaChai! was founded in Black Mountain, NC by Kathryn Ames, Tommy Winant, and Joel "Windfox" Boyle in January of 2014. Joel and Tommy met in the summer of 2012 chatting in between sets of the Town Pump Tavern's Tuesday night open jams and discussed topics such as herbal remedies and natural healing over some good local craft brews. Tommy had been making chai nearly every day since he learned an Indian friend's generation old family recipe 10+ years ago. Joel also made chai often, as well as many other medicinal teas. They decided to fine tune a recipe that they could share with the public. After many "meetings" on the disc golf course and brewing numerous small batches, adding and subtracting gram by gram of Tommy's friend's family recipe, they finally tweaked out what is now known as AppalaChai! When Joel and Tommy eventually got stuck on how to package and create the business officially, Katie came on board to kickstart the operation. Tommy and Joel now produce approximately 50-100 gallons of concentrate per week while Katie and Tommy work on sales, distribution, marketing and customer service. Tommy taught Katie how to make chai when they first started dating and she also makes amazing chai now too!
Mission: AppalaChai! is produced using only the finest organic ingredients. More Spice. Less Sweet.
GOODNIGHT BROTHERS
Location: Boone, NC
Product: Country Ham
History: In the 1930's the brothers were buying produce in Watauga County and selling it to stores and restaurants down the mountain. After WWII all the brothers, excluding JC, moved off the mountain to start other divisions of Goodnight Brothers. In the year 1961, the Goodnight brothers built a new state of the art food distribution warehouse on Wilkerson Boulevard in Charlotte. Brothers; Howard, Joe, Neil and Olan were all working from the new Charlotte based warehouse. JC remained in Boone running the produce and county ham operation. JC built a new country ham facility which opened in 1967. By this time, Goodnight Brothers in Charlotte had merged with Pearce Young and Angel (known as PYA) giving JC a much greater area to sell his Watauga Country Ham and produce. Jim Goodnight, JC's son, was hired in 1970 to run the country ham operation. In 1985 Jim hired his first cousin Bill Goodnight, who was Neil's son, to help with sales. Together they grew the business to a point that expanding to a new facility was necessary in order to continue the growth.
Mission: "Goodnight Brothers Country Ham is dedicated to offering our employees a friendly, clean, safe work environment with competitive wages, training, and state-of-the-art equipment. We believe that when these components are combined with unmatched customer service and great supplier partnerships it produces quality products that exceed our customers' expectations and create profitable opportunities that strengthen the dedication to our shareholders and the community."
HICKORY NUT GAP FARM
Location: Fairview, NC
Product: Pulled Pork
History: HNG Farm began in 1916 when Jim and Elizabeth McClure, newly married and on their honeymoon, fell in love with the old Sherrill's Inn and surrounding landscape. On April 30th, 1918 Jim held the first official meeting of the HNG Farm Company. In 1920, Jim initiated the visionary Farmers Federation, a cooperative organization to bring better agriculture to Western North Carolina. The farm is still owned and operated by descendants of Jim and Elizabeth and is several generations strong.
Mission: "Our mission is to connect sustainable agriculture practices, our family history, and our customers by sharing the family farm experience and serving as an example of healthy land stewardship."
JOYCE FARMS
Location: Winston-Salem, NC
Product: Boneless Chicken Thighs
History: Joyce Farms was started in 1962 by Alvin Joyce and is still a family-owned business today, with Alvin's son, Ron Joyce, and his two sons, Ryan and Stuart, at the helm. Most of their partner farms are also located in the Carolinas, Georgia, and Virginia. They've gone from just selling chickens to raising the very best all-natural poultry, beef and game for the top chefs, artisanal butchers, and educated consumers across the U.S.
Mission: "Our mission is to provide all-natural meat and poultry with the flavor mother nature intended."
LOOKING GLASS CREAMERY
Location: Fairview, NC
Product: Fromage Blanc & Carmoolita
History: Looking Glass Creamery started as a one woman operation when Jennifer Perkins began making and selling very small batches of fresh goat cheese in Fairview in 2009. She bought milk from local dairy farms and grew slowly and organically with lots of support from the amazing restaurants in Asheville, our community, and the tourists who visit the area. Fast forward a couple years, and husband Andy quit his job, left behind a paycheck and health insurance and joined the effort and adventure into the unknown. A couple of hardworking employees came on board and seven years later they knew they needed to grow the business. In early 2017, they were able to buy the dairy farm that had been their cow milk supply for several years. At that point, they transitioned over to an all-cow product line. That farm, Harmon Dairy, is a second generation operation in the rolling hills and agricultural heart of Polk County, NC not far from the towns of Columbus, Tryon, Saluda and Landrum.
Mission: "It's All About the Milk.......and what it takes to make good cheese. So I guess it is all about everything. It's about growing good grass on well cared for land, keeping your animals happy and healthy, making great southern cheese and working together with a team of people who have a shared vision for the future of this company. That vision includes an award winning line of farmstead cheeses, transparency in our farming and production practices, community outreach and education about cheese and dairy farming and encouraging our customers to experience, explore, and enjoy what we do from the ground up, and underground too."
MAYS MEATS
Location: Taylorsville, NC
Product: Brisket
History: Mays Meats started nearly 40 years ago as a custom slaughter house and meat processing company by Wayne Mays and his wife Margie. Mays Meats is now under the ownership and management of their sons, Jim and Mike Mays. They have continuously grown as a company and now deliver to restaurants in an approximate 150 mile radius of Taylorsville.
Mission: "Mays Meats is committed to working with small-scale, local meat producers who direct market meats. We work with more than 100 small, independent farmers who produce and market natural, local and niche meats. At Mays Meats, we understand the importance of attention to detail when it comes to handling your product. We believe that through effective communication and mutual trust, we can serve the needs of your growing meat business."
MILLS RIVER CREAMERY
Location: Mills River, NC
Product: Buttermilk & Whole Milk
History: The Johnston family is a third generation dairy family in the Mills River area. Their grandfather started selling fresh milk to the public in 1917. Their father was born in 1920 and raised their family in the Avery's Creek community. As he became a young man he realized that he wanted to follow in his father's footsteps. When their grandfather decided to retire, their father took over. He and their mother raised five children- one girl and four boys. Three sons decided to continue the family dairy. They relocated to Mills River in 1975 and have continued to operate the family farm since.
Mission: "All of the milk that we process comes from our cows that have been raised on the farm. We grow all of our hay and corn locally. We do have to buy other feed products such as protein, vitamins, and minerals to fill the animal's needs. These are all non-GMO. We do not give our animals any growth hormones and only use an antibiotic if our veterinarian prescribes that it be done for an individual animal. In the spring of 2014 we decided to start a small processing facility in Mills River."
OLD MILL OF GUILFORD
Location: Oak Ridge, NC
Product: Grits
History: The Old Mill of Guilford was founded in North Carolina on Beaver Creek in 1767 to grind grain for the early settlers of what is now Guilford County. Today, the mill continues to produce all-natural, stone-ground, whole grain foods, just as it has for over 240 years.
Mission: "In 2008, Alice and Darrell Klug purchased the Old Mill of Guilford from Mrs. Parnell's brothers, Hans and Alfred Brandt. Annie Laura Perdue remained the miller. Volunteers from the community assist in running the mill. The Klugs continue to introduce new products, maintain the historical integrity of the mill and enhance the mill's reputation for high-quality, natural stone-ground products."
PENNYCUP COFFEE CO.
Location: Asheville, NC (in the River Arts Districts)
Product: Locally Roasted Coffee
History: After a collective 20 plus years working within the coffee industry, Amber Arthur and Bill Tanner partnered to form PennyCup Coffee Co. With a modest setup, PennyCup started roasting at their River Arts production space in January 2014. In the summer of 2015, the roaster expanded to include an espresso bar and opened up to the public. Since then, PennyCup has opened two more locations and built a reputation as a stellar roaster staffed by conscientious and delightful people.
Mission: "PennyCup is a small-batch roaster located in Asheville, NC. We source the finest, sustainable, green coffee and roast it to our exacting standards in a constant effort to create an amazing cup of coffee."
SAN GIUSEPPE SALAMI CO.
Location: Elon, NC
Product: Andouille
History: For nearly two decades, Giacomo Santomauro has been pleasing the Greensboro community at Giacomo's Italian Market with homemade, authentic Italian products, using age-old recipes and techniques passed down to him from his family.
Mission: "Authentic, robust Italian flavors from homemade sausages, salamis and cheeses are what Giacomo's Italian Market is all about."